Single Bowl vs. Double Bowl
Top designers weigh in on the merits of single and double basin sinks

Since the invention of the kitchen sink, homeowners and designers have been debating the merits of a single bowl vs. a double bowl. On the one hand, a double basin makes washing dishes a snap. One side serves to hold soapy water and dirty dishes while the other side is reserved to keep them clean. On the other hand, single basins can be real space savers. They often come in a wider range of sizes than their divided counterparts. They can also be roomier for washing pots and pans. We could make endless arguments for both sides but truthfully it comes down to personal preference. Need some inspiration to make your choice? See below for some of our favorite single and double bowl installations and hear what some of our favorite designers have to say about each.

1.
"I always go for a single bowl sink. I think it feels more modern, and in my personal opinion functions better. We have a lot of large plates and pans that we use in the kitchen, and it's nice not to have a partition when we have a ton of stuff to wash. A bonus with a deep single sink is if you have dishes in there you do not notice them until you're standing over it!" Raelyn Woltz, @westend.interiorsDesign by West End Interiors
Featuring Quartet farmhouse kitchen sink in Slate
2.
"One of the characteristics I love about my oversized double bowl sink is I have the functionality of a large single bowl on the left side, as well as the easy use of the smaller right side to hand wash or soak items.  I especially like that the smaller side has the perfect capacity for my use to fill quickly with water." Jennie Wunderlich, @studio.h2oDesign by Studio H2O
Featuring Cocina Duet Pro in Brushed Nickel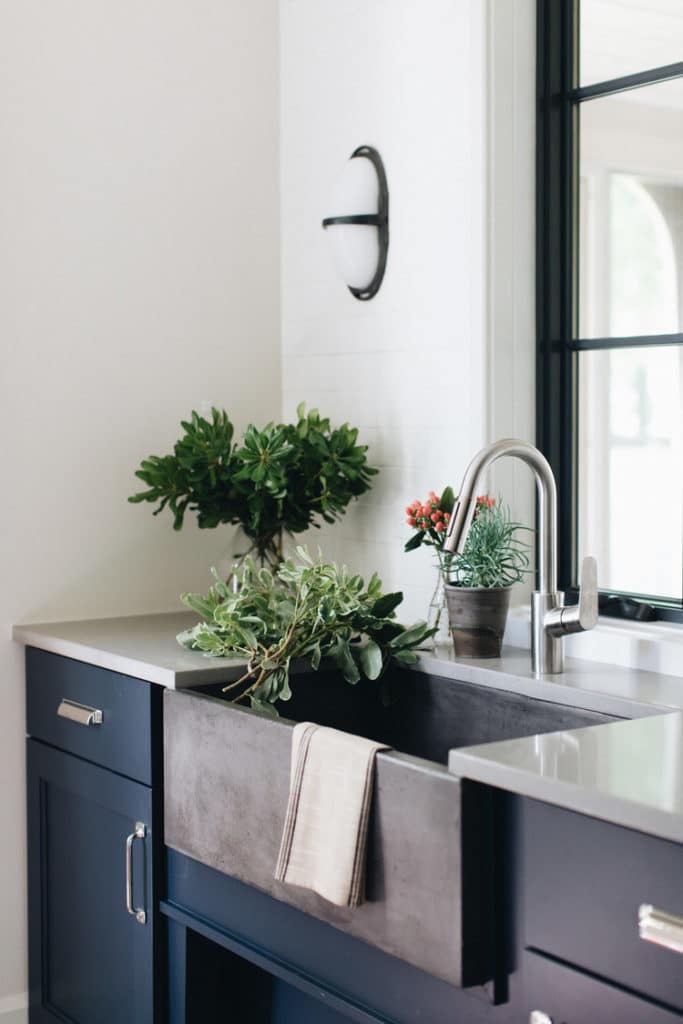 3.
"Less is more and a streamlined sink, preferably an apron front, is not only the workhorse of the kitchen but a piece to enjoy that is visually appealing."​Kate Marker, @katemarkerinterirosDesign by Kate Marker Interiors
Photograph by Stoffer Photography
Featuring Farmhouse 3018 in Slate
4.
"I actually prefer a large single bowl for the versatility of being able to wash large pots, cutting boards, babies and dogs, etc in the sink! This client preferred a double bowl, so we went with it!" Design by Andrea Browning, Model Design
Photograph by Chipper Hatter
Featuring Farmhouse Duet in Brushed Nickel
For more design inspiration check out our Instagram.