Designer Michel Smith Boyd Tells You How to Nail the Rose Gold Trend in Home Design
Metallic accents define Michel Smith Boyd's aesthetic. Well, metallics and moody textiles. OK, and layered accessories. Boyd is no minimalist, and he's not shy about going all out with glamour, even in the most utilitarian of spaces—the kitchen and bath. The Atlanta-based designer, who has appeared everywhere from the pages of Elle Decor to this season of The Real Housewives of Atlanta, has become known for artfully mixing metals and spiking his designs with rose gold.
After Boyd absolutely killed a Palm Springs powder room in the Christopher Kennedy Compound show house during Modernism Week last year—making a rose gold faucet its unexpected centerpiece—Vogue quoted him as saying: "In the world of hardware finishes, rose gold became the new rock star. Entire bath designs have been inspired by and built around the distinctive color. Hardware is literally jewelry."
Even though it's so much easier to go matchy-matchy on fixtures and finishes, Boyd is fearless when it comes to mixing metallics, and his spaces are all the better for it. That's why we think there's no better designer to take you for a turn around Native Trails' new Polished Copper finish. Here are Boyd's tips for bringing luxe metallics into your own spaces:
Create glamour with mixed metals.
"When I think about creating glamour in a kitchen, it's always going to be about the lighting and the hardware. Because that's the jewelry in the kitchen. Cabinets are cabinets. They're meant to be utilitarian. The handles are where you get to put your personality on display. If I've got a rose gold faucet, but I want brass fittings on the cabinets. I can do that because we can play with the metals there so that it feels collected and eclectic and special. Even for my most minimal client, I always create drama with hardware." As for Boyd's own kitchen, pictured above, he says, "There's so much happening up top—about 15 different pieces of artwork—that I didn't even put handles on the upper cabinets. There's no point."
Start with a sink and faucet.
In the 2016 Modernism Week Show House (Boyd also participated in this year's show house), he used a Dornbracht faucet in the brand's Cyprum finish, described as "a high-gloss finish produced using 18-carat gold and copper." He says, "That was my first time in Palm Springs, and Traditional Home invited me up, and I was like, 'I'm going to travel across the country to do a powder room?' But that small space turned out to be such a big deal for me. Allegedly, there's nothing new under the sun, but seeing that rose gold faucet in that bathroom! I thought, 'Why didn't we do this before?'"
In any bath, Boyd advises selecting your sink and faucet first: "Everything just kind of orbits around that, and then we move into handles and pulls and knobs and details like that."
Go bold with copper.
Boyd believes copper is both unconventional and classic ("It's been around since Little House on the Prairie!" he exclaims), which is precisely why it's so special. "Polished Copper is one of those things that's familiar but also special. If you've got a copper sink, it's a bold choice. It's something that's aspirational; everybody wants one, but everybody's afraid to have it. Those who do choose copper, it's like, 'Wow you're a badass.'"
Pair polished copper with matte or black fixtures.
When it comes to high-shine sinks, Boyd recommends juxtaposing them with darker faucets and fixtures: "I like rose gold with a gunmetal finish or anything with a matte finish that allows it to shine. The way Native Trails stylized your copper tub with the dark tub filler, oh my God that was so sexy. That's something that I would do. It's incredibly clever because it's showing copper from a fresh perspective and illustrates how to do a copper tub in a transitional or contemporary space, even though it is by far the most classic metal."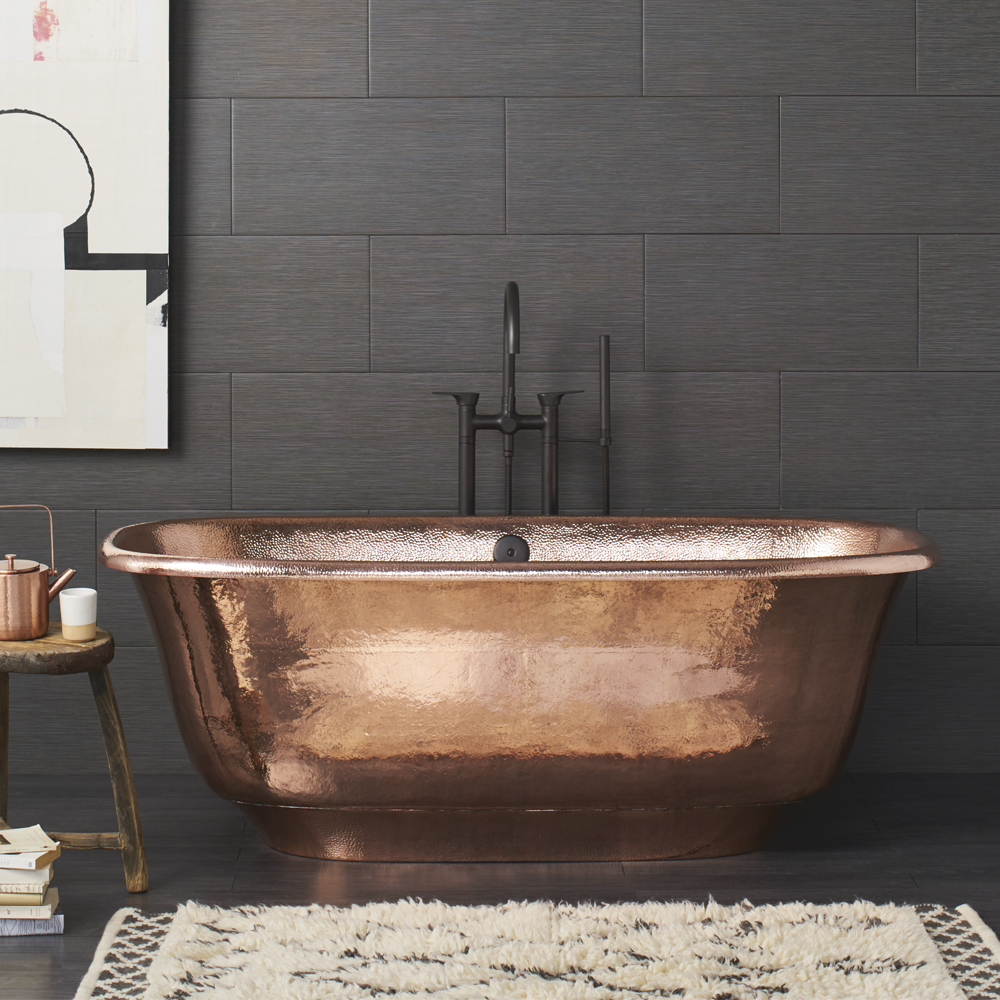 However, Boyd says he has also mixed rose gold to great effect with chrome. In a contemporary bathroom, the trick is to keep everything else dark and monochromatic—from the countertop to the tile—so that the metals feel "precious, as in a jewelry way." That way, he says, "The copper becomes the star, the crown jewel of the bathroom or kitchen."
Find what's fresh and fashionable.
Boyd, a former New Yorker with passions for both fashion and architecture, says it was interior design that perfectly merged his two obsessions. "So many things that I do are inspired by fashion," says Boyd, who is well-known for being impeccably dressed. "And just like with fashion trends, in home design we're always in search of the fresh things and the next thing. When you bring something into a space that feels fresh but is also classic and you're familiar with it, it feels almost clever. That's what I feel about rose gold—how chic is it? Pop it in to add some life to the space. It will always bring you joy every time you see it. It will never get old. While it's a trend in home design, it's been a staple in metals, in jewelry, in our lives, for years, but we're seeing it for the first time in home design this year. Using it now makes you on the front end of something—and who doesn't want that?"
Browse all of Native Trails' Polished Copper sinks and bathtubs here.
See more Designers We Love.