5 Key Elements of Industrial Farmhouse Style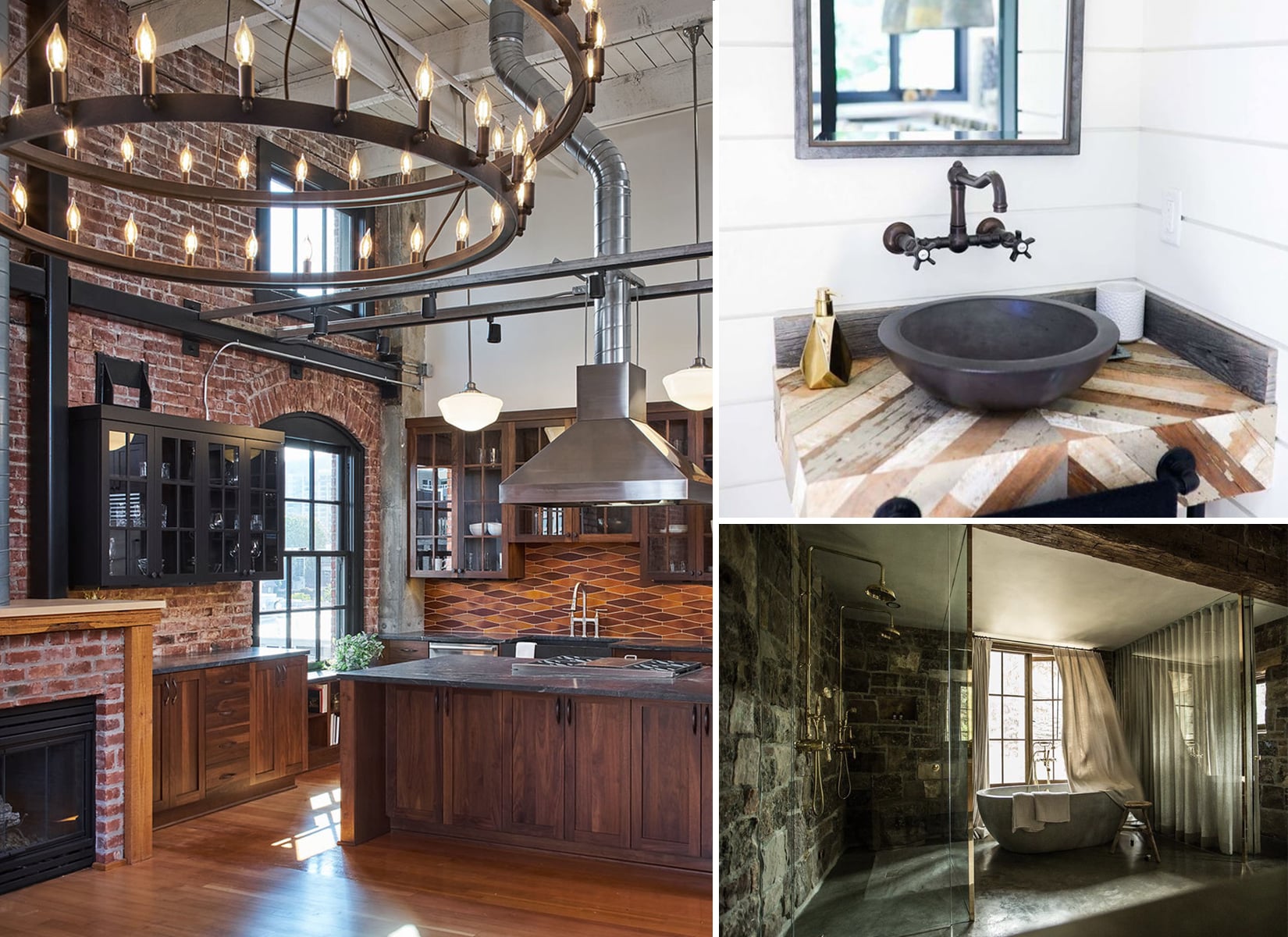 If industrial farmhouse is in, is modern farmhouse out? While there's been a good deal of speculation about that, "farmhouse-style" décor is certainly not making its exit. Rather, it's become so embedded in our design ethos that it's evolving with time, including by merging with the industrial vintage trend.
There are now fresh takes on the traditional farmhouse everyplace you look—e.g., glam farmhouse, coastal farmhouse, French farmhouse, Scandinavian farmhouse, rustic farmhouse, Colonial farmhouse. But it's industrial farmhouse that may have the most staying power. This style is about taking the farmhouse off the farm—it's far more city than country—but salvaging many of the design elements that make the farmhouse aesthetic cool, practical and timeless.
New iterations of this minimalist style are yielding new inspiration for designers and homeowners everywhere; the Instagram hashtag Industrial Farmhouse now has almost 90,000 posts. And the pandemic is playing a role in homeowners embracing the trend. Says Fast Company, "This era of 'more is more' is coming to an end, and the pandemic is to blame. Enter minimalism, which is making a comeback, but with a twist. The experts I spoke with suggest that it doesn't look as cold and clinical as minimalist movements of the past. The trauma of the pandemic has left us craving warmth and comfort, so we are combining open, empty spaces with cozy textiles." These are the five essential elements of industrial farmhouse style:
1. An open floorplan, open shelving, open … everything
Take down the walls, raise the roof, leave bare the pipes, beams, even the ductwork. Rooms in industrial farmhouses are often expansive—and not only in the kitchen and great room. Bedrooms, too, may incorporate a lofted area. One point of consideration, however, when plotting an open floorplan is that many COVID-era homebuyers today are looking for a designated office space—with doors that can be closed.
2. A pared-down color palette
While you may find an occasional pop of barn red, black and white rule the roost in industrial spaces. The bedding is white, towels are white, etc. Of the popularity upswell of black in particular, Christine Soner, product placement specialist at IKEA, recently told Architectural Digest: "In Scandinavian design, black has been used as a consistent color, and in the U.S. the movement towards the American farmhouse style and loft living are a few of the trends that have influenced the materials that have been incorporated into the kitchen and home. Converted factories and farmhouses have brought industrial elements with exposed pipes, beams, and salvaged iron complemented with reclaimed wood." With color at a premium, industrial farmhouse designs instead go hog wild on texture.
3. Concrete and exposed brick showcased
What's more stripped-back and unfussy than concrete and exposed brick? Concrete countertops and sinks pair perfectly with the farmhouse industrial style, as is the texture and character of exposed brick. And stone elements don't have to mean chilly. Take, for example, actor Aaron Paul's palatial Idaho home. The master bathroom is appointed not only with a Native Trails concrete NativeStone bathtub but also with heated concrete floors. Stone of any variety offers a raw, clean look that's here to stay.
4. The contrast of cool steel with warm wood
Perhaps more than anything else, the combination of wood and metal in home design signals the collision of farmhouse and industrial. Imagine magnificent raftered ceilings, vanities and floorboards made from reclaimed barnwood, steel-legged barstools and coffee tables. When possible, choose wood fixtures made from lumber that once had a home in a factory, barn, ship, warehouse or wine cask. Sound woo-woo to say that reclaimed woods impart one-of-a-kind history into a home? Don't knock them until you try them.
5. Repurposed, antique or handmade elements
Remember, you're not just going for a factory vibe but for a vintage factory vibe. For that reason, industrial farmhouse spaces should primarily be clad in materials that look like they've been around forever or DIYed. Think painters' drop cloths as drapes, warehouse workers' stools, bathroom vanities made from barnwood, piping used to hang shelving, barn light fixtures, and metal carts repurposed as kitchen islands. You get extra points from Mother Earth if these items are truly being salvaged.
Have a farmhouse industrial project in mind? Native Trails can help you with the kitchen, bath, bar and mudroom. Have a look at NativeStone sinks for the bath, kitchen, and bar, and at our line of eco-friendly concrete bathtubs here.