Our Bestselling Vanity Is Now Bigger Than Ever
The Americana Vanity is now available in a 48" size and with a coordinating NativeStone® vanity top
"They don't make them like they used to." You've probably heard that a time or two about products these days. But in this era of fast fashion and hours-of-assembly-required furniture, one of our company's founding principles is to make things like they used to be made: by hand, and in deference to tradition. We believe that's the only way to achieve one-of-a-kind character.
It's also the way we build our best-selling Americana Collection. This bathroom furniture line has been our most popular since 2013. Not only because it's made to last for generations, but because it embodies the Joanna Gaines-approved rustic and farmhouse trends that are informing the design of luxury homes everywhere. (Speaking of Fixer Upper, the Americana was featured on another HGTV show, Property Brothers.)
The Americana vanities are all handcrafted from wood that's reclaimed from old barns, homesteads and fencing. Recovering heirloom-quality material that would otherwise find its way into a landfill. Instead, this salvaged wood is getting a second life in our vanities and in homes around the world. Deeply textured, often with visible wear marks and nail holes, the Americana Collection speaks to a rural past life. In fact, many designers find it makes an ideal contrast alongside sleek faucets, lighting and other luxe appointments.
Bath Furniture Made by American Artisans: Now in a New Size
When it came time to bring the Americana Collection to life those many years ago, we tracked down some California artisans who really do make things the way people used to. Today, they continue to build each and every piece of this collection. In fact, it was once named the Old World Collection because it borrows so many woodworking techniques from the past—by hand.
A blacksmith even hand-forges the iron hardware found on this furniture. And each of the four available finishes (Chestnut, Driftwood, Whitewash, and Anvil) is hand-rubbed.
Due to demand, we've expanded the Americana Collection over the years, adding in 2017 the largest Americana Vanity yet- a roomy 48″ size.
Americana Vanity and Palomar Vanity Top with Integral Sink: A Perfect Pair
To suit the Americana Vanity's new size, we've also just released a larger concrete vanity top. The Palomar Vanity Top with Integral Sink is now available in the NativeStone Pearl finish (shown in first image), in addition to Ash and Slate (below).
This award-winning sink/vanity top, made of our silky-smooth and naturally sustainable cement-and-jute blend, has received several honors, including a GREEN GOOD Design award; a Best New Bath Product by This Old House magazine; and a Architizer A+ Product Awards Special Mention.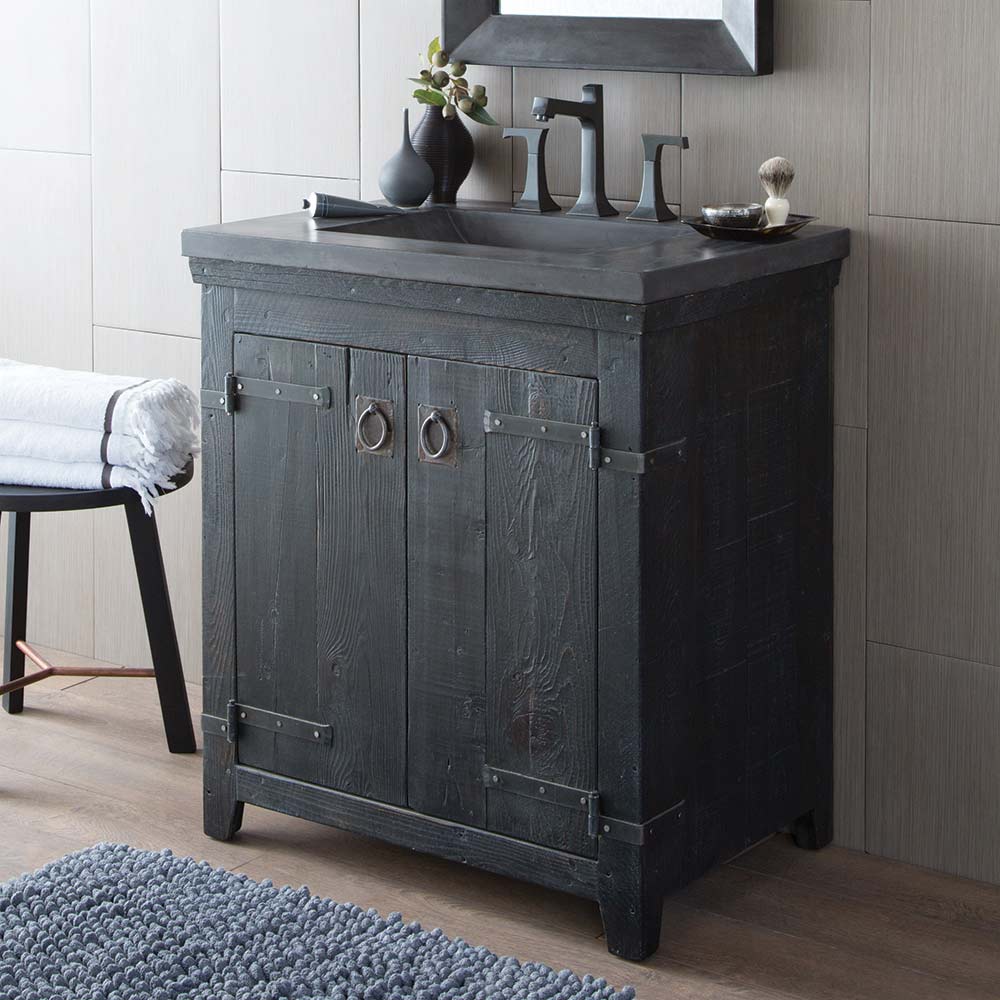 Want more reasons to love using reclaimed wood in your bathroom design? We have nine of them.